Image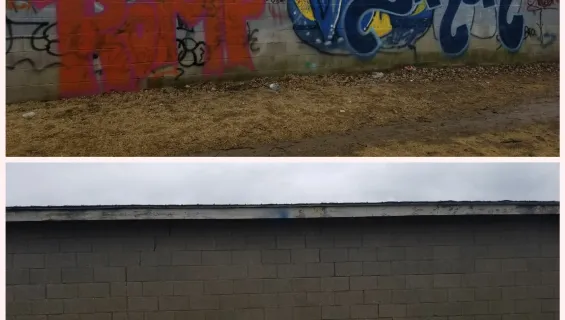 Municipality
Northumberland County
Graffiti removal from ball diamond dugout using SubZero Blastings dustless blasting equipment, using a recycled crushed glass as media, this is a chemical free, environmentally friendly method of achieving graffiti removal on porous surfaces.
How to Remove Graffiti from Brick
Graffiti is not just unsightly and bad for business, it poses a real challenge for removal from some surfaces. Spray paint on porous surfaces like brick, especially older brick, can be especially tricky.
This baseball dugout in Northumberland County was completely covered in graffiti before the summer 2018 baseball season.
Rather than risk gouging or cracking the old, soft masonry, this client called Subzero Blasting for safe and effective removal using our mobile dustless blasting service.
Chemical Free Dustless Blasting
It's never a great idea to use harsh chemicals for graffiti removal, but is especially of concern in a public outdoor space where kids and families play.
Chemical removal was not an option for this Northumberland County baseball dugout, and neither were wasteful or hazardous removal methods.
Dry sandblasting techniques, or blasting that uses unsuitable media, could have left these stone walls pitted or rough.
That's why Subzero Blasting used environmentally-friendly recycled glass media, ground to a fine grit and combined with water, to restore the dugout to pristine condition.
SubZero Mobile Graffiti Removal in Ontario
Using no solvents or chemical cleaning agents, while protecting the masonry from damage or surface weakening, our team of professionals was able to quickly erase all traces of the graffiti from the space.
The dugout looks new again, the park is clean and safe, and the client is satisfied as always with the expert service offered by Subzero Blasting.