Image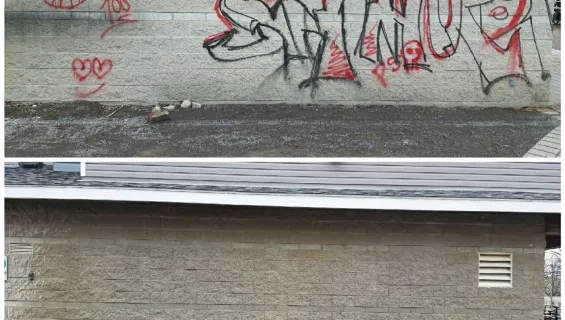 Municipality
Northumberland County
As part of the full range of historical restoration services we provide, the team at Sub Zero Blasting assisted in the removal of some graffiti on a building in Cobourg in 2018.  
Mobile Blasting for Graffiti
Graffiti can be a real eye sore for a business and can deter customers from entering the sight. We at Sub Zero Blasting are here for you and can help get your business back to its full potential by removing this eyesore.
We used our dustless mobile cleaning units to effortlessly and quickly remove the spray paint from the wall of this business using wet sandblasting techniques.
No Mess No Clean Up
This effective cleaning method utilizes a highly powered mobile pressurized unit that is safe and chemical free. The powerful stream is directed at the wall and handled by our trained technicians. No mess, no clean up, no worries.   
What Else Can Sub Zero Blasting help with 
The team at Sub Zero Blasting is professional, friendly and fully trained and we have a variety of tools and methods to help you with the following: 
Restoration of wood, metal or brick surfaces
Paint removal - off roads, walls, cars etc
Concrete and masonry restoration or clean up
Industrial cleaning, machine shops, manufacturing plants
Automobile restoration
Mold, smoke, fire damage remediation
So much more…
Call us today to schedule your cleaning job or speak with a representative to determine your specific needs. We are here to help.